Serving Our Community
Since 2011 we have donated half our offering each Sunday to social justice agencies. We call this Share the Plate! We do this to further partnerships and effect change in the greater Omaha community. Taking this a step further, we will soon initiate Beyond the Plate through service learning projects with our Share the Plate recipients.
Share the Plate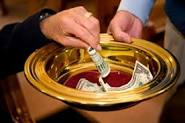 During worship on the first Sunday of each month, we learn about the month's recipient and hear a few words about its social justice program. At the end of the month, half the month's offering is awarded to the agency. View our current and past Share the Plate recipients.
Nominations
We accept nominations from members and affiliates of the church. If you would like to nominate an organization, please use one of the following nomination forms. You may either bring it to church and drop it off in the Social Justice folder in the church office or email it to stp@2uomaha.org.
Applications are reviewed by the Social Justice Committee and approved by the Board of Trustees.